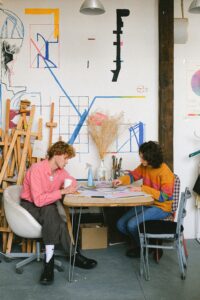 Behind-the-scenes ghostwriters play a different role than writing collaborators or partners do.
We're hearing the term "ghostwriter" and "ghostwriting" much more frequently these days, as everyone from industry experts to leaders to celebrities are freely acknowledging that they did, in fact, hire a ghostwriter to assist in producing their book.
And why shouldn't they?!
Ghostwriters exist to help aspiring authors formulate, organize, draft, and polish their book idea(s). That is what they do.
Hiring someone who is skilled at a particular type of task is the American way. That is why we hire attorneys when we need advice regarding a legal matter, accountants when we have tax questions, interior designers when we have no clue how to make our home inviting and organized, and wedding planners when a marriage ceremony is in our future. We hire experts to help us achieve a better outcome than we could on our own.
Which is exactly why aspiring authors are now seeking out professional ghostwriters—because they want their books to be well-written.
Before you hire one to work on your book, however, first think about how much of the work you want to hand off to someone else.
A Ghostwriter
If your best-case-scenario is to hand over all of your notes and ideas to a professional writer and have them make sense of what you have, that's, almost by definition, what a ghostwriter does. They take the information you give them and structure it into a book.
A ghostwriter is part project manager, part writer, part therapist, and part publishing consultant. They assume the heavy lifting when it comes to producing the chapters of your book. It is also up to your ghost to tell you when they need more information from you, to fill in gaps they have identified in some of your material.
Of course, the author—meaning you—need to give them the information required for the book, either in phone calls, video sessions, or written form, because you are the subject matter expert. But it's primarily the ghost's responsibility to tell you what they need.
That is one option—to hand off the writing work to someone else, who will work anonymously. However, you have another choice.
A Collaborator
One variation of a ghostwriter is a collaborator. Some people use the term interchangeably with ghostwriter but I think there is a nuanced difference.
Where a ghostwriter is the driving force in drafting the manuscript, a collaborator is more of an equal partner. Granted, you likely have the vast majority of expertise being shared in the book, but a collaborator works side-by-side with the author rather than behind the scenes, as a true ghostwriter does.
A collaborator is a writing partner who guides the author, asks questions to extract ideas and memories that might fit in the book, just like a ghostwriter does. However, there is more of a back and forth with sharing ideas and material as chapters are written. Sections of the writing are shared for feedback with one another, which are then added to, edited, and shaped to improve the content and the quality.
Cover Credit Secrets
Collaborators are more frequently recognized on the book's cover—which is also known as giving "cover credit."
When you see someone's name "and" another name, the author is often signaling that they had a collaborator, or writing partner. For example, "Jane Smith and Rachel Poole." The author is telling you that Rachel was a big contributor, to the point of being a collaborator or partner in the project.
Another option the author has, if they want to acknowledge they had help, is to use a "with" credit. A "with" cover credit is more typically used when the author relied on a writer to do much of the writing work. Yes, the content came from the author, but pulling the material together was done by the name following the word "with." As in, "John Jones and Tim Roberts."
In both cases, the author is proud of the book and wants to give credit where credit is due by recognizing their ghostwriter.
Of course, as the client, you also have the option not to identify the ghostwriter at all. That is still quite common. Many ghostwriters don't care whether their name is on the cover, although most would appreciate a mention in the acknowledgments, even if they are referred to as an editor or book coach.
So, before you start interviewing ghostwriters to help in writing your book, be clear about what role you want that writer to play. Do you want them working behind-the-scenes with material you provide or do you want them working alongside you as you talk through the book's chapters together? Knowing which you would prefer can help you find the writer who will help you create the best possible book together.